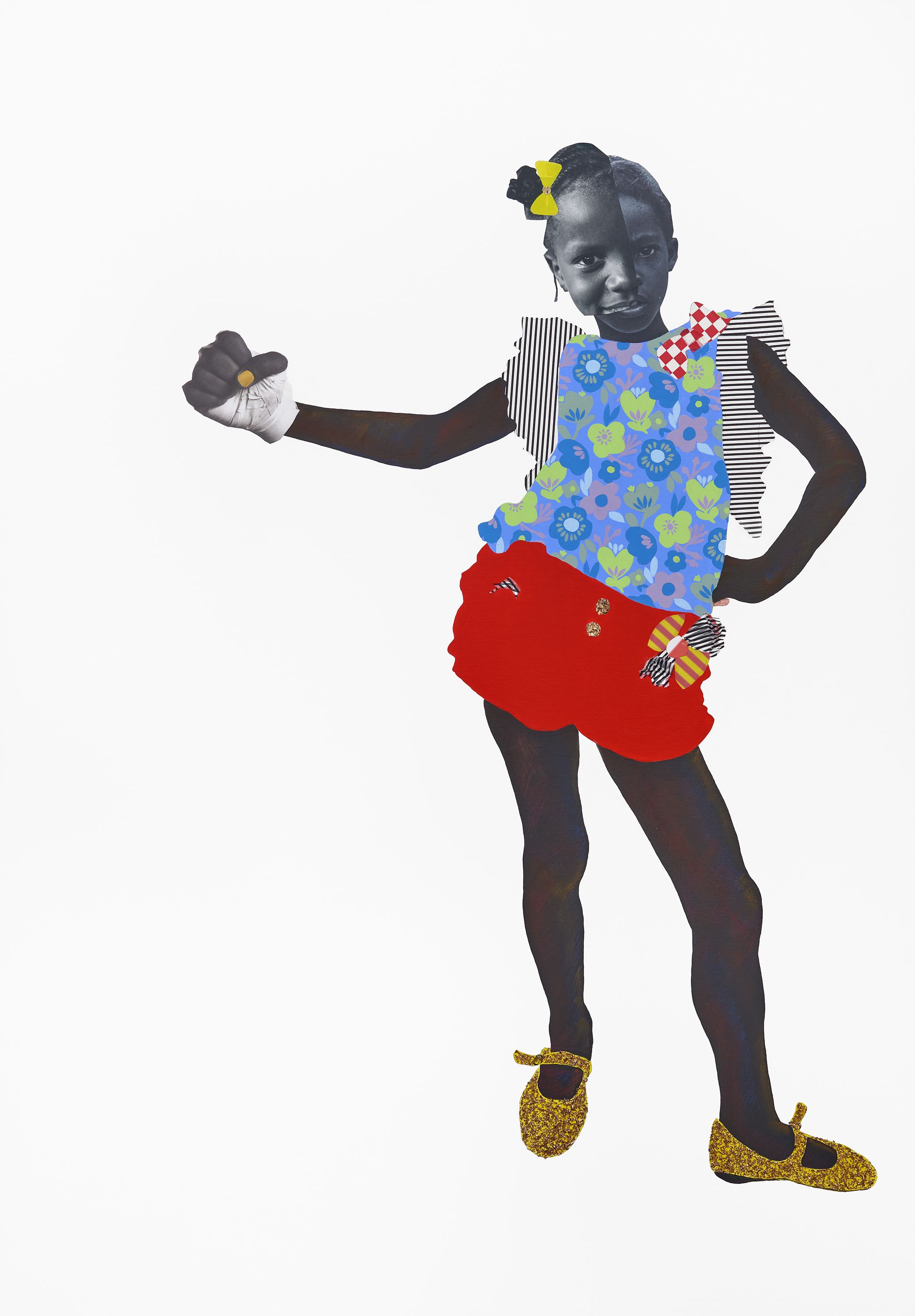 Deborah Roberts first solo in Europe
BY Katy Cowan CREATIVE BOOM May 16 2019
"Entitled 'If They Come', Roberts uses Baldwin's words to highlight the cross-generational struggle against racism and the socio-political parallels between 1970 and 2019. Continuing this call for solidarity, Roberts' use of collage speaks to the challenges encountered by young black children as they strive to build their identity, particularly as they respond to preconceived social constructs perpetuated by the black community, the white gaze and visual culture at large."
[Image caption] "Hip bone" 2019 (Mixed media collage on canvas, 65 x 45 inches)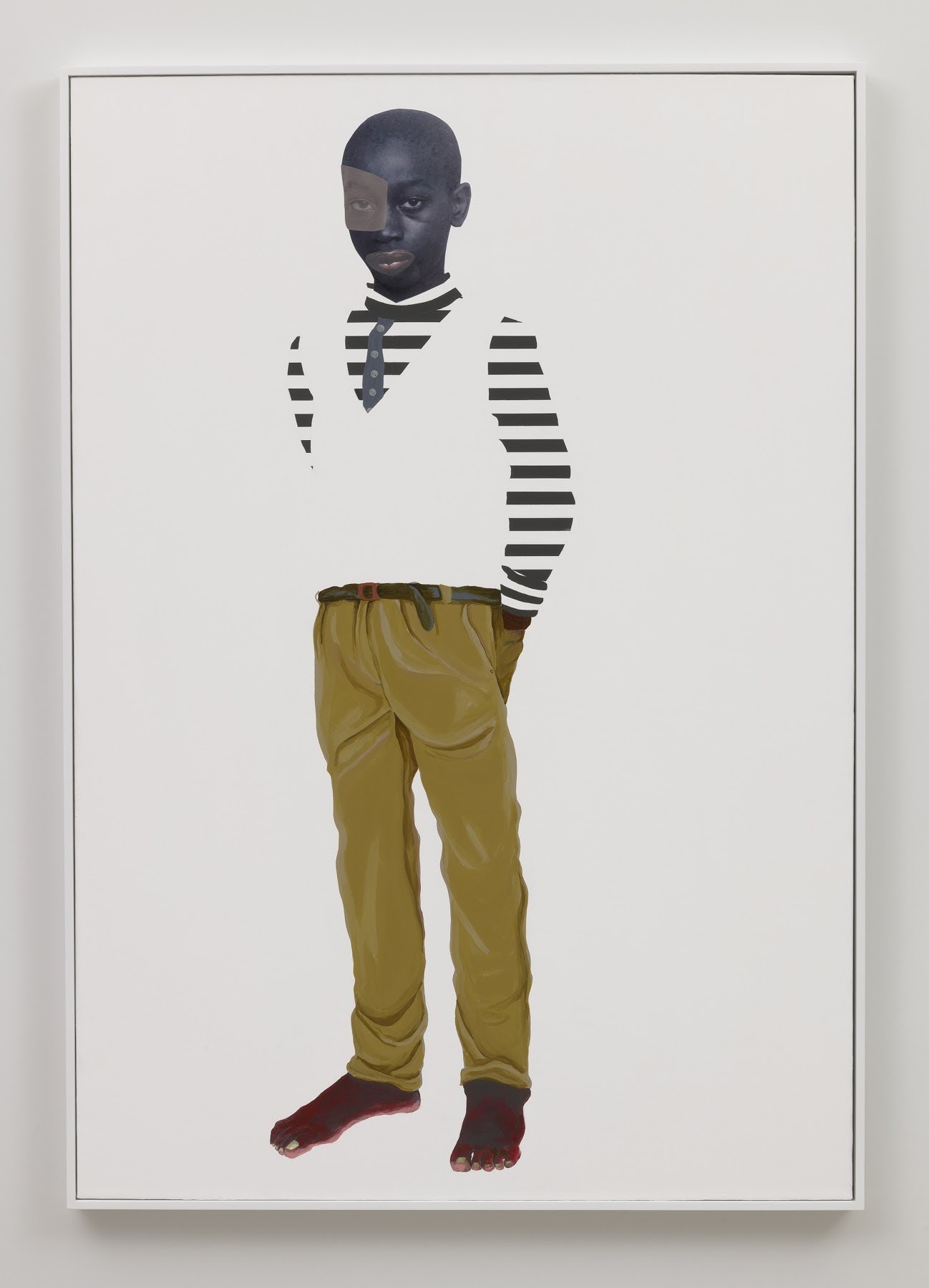 "Native Sons: Many thousands gone" at Vielmetter Los Angeles
BY Victoria L. Valentine CULTURE TYPE April 23 2019
VIELMETTER LOS ANGELES announced its representation of Deborah Roberts in late February and her first exhibition with the gallery opened last week.
[Image caption] "From feet to wings (Nessun Dorma Series)," 2018 (Mixed media collage on canvas, 65 x 45 inches)
Long-Running 'Anonymous Was a Woman' Grants Awarded for 2018, With Betty Tompkins and Deborah Roberts Among 10 Winners
BY Alex Greenberger ARTnews POSTED December 11, 2018
"The once-secretive Anonymous Was a Woman program has named the 10 winners of its 2018 grants, which recognize women artists over the age of 40. Each winner receives $25,000."
AUTUMN/WINTER 2018 ISSUE 10
fields is a print publication designed to spotlight writers, poets, painters, illustrators, and creative types of all stripes, with an emphasis on the up and coming and the unsung.
BY L. Lamar Wilson OXFORD AMERICAN MAGAZINE ISSUE 103 November 20 2018
[Image caption] "Grillz, don't pee on my head and tell me it's raining [fish]" 2017 From the series "Not on Me"
Postracial Resistance: Black Women, Media, and The Uses of Strategic Ambiguity
BY Ralina L. Joseph NEW YORK UNIVERSITY PRESS October 2018
Postracial Resistance explores how African American women celebrities, cultural producers, and audiences employ postracial discourse—the notion that race and race-based discrimination are over and no longer affect people's everyday lives—to refute postracialism itself. In a world where they're often written off as stereotypical "Angry Black Women," Joseph offers that some Black women in media use "strategic ambiguity," deploying the failures of post-racial discourse to name racism and thus resist it.
Deborah Roberts at Luis de Jesus
BY Ikechukwu Casmir Onyewuenyi CONTEMPORARY ART REVIEW LOS ANGELES August 2018 ISSUE 13
"Contemporary Art Review Los Angeles (Carla) is a quarterly magazine, online art journal, and podcast, committed to being an active source for critical dialogue surrounding L.A.'s art community. Carla acts as a centralized space for art writing that is bold, honest, approachable, and focused on the here and now."
ART REVIEW "Deborah Roberts: Fragile but Fixable"
BY Shana Nys Dambort ART AND CAKE June 10, 2018
"Her work employs a system for organizing elements of composition which mirrors the way the human brain learns and grows, by a sponge-like process of absorption, mimicry, experimentation, and eventually, decision-making. From many parts, one person.
Artist Deborah Roberts on Yinka Shonibare exhibition and why 'black is not a colour any more'
BY Ben Luke EVENING STANDARD June 6, 2018
"Shonibare taps into what he calls the "magic and subversive beauty" of art, addressing "the spirit of African resistance and representation". For Roberts, the show is about diversity within blackness. 'It is not a colour any more," she says. "So what does that mean, what does blackness mean? This show exudes blackness in a way that has never been seen before.'"
Roberts' powerful
statement of black female identity
BY Sharon Mizota LA TIMES May 29, 2018
"Roberts' works capture perfectly what it feels like to have assumptions and expectations foisted upon you, to feel like a collection of pieces instead of a person. If you are lucky, you will also be buoyed and strengthened by the traces of those who came before, in the creation of someone unprecedented."
Deborah Roberts' #EvolutionOfMimi Art Tackles Heavy Topic of Colorism
BY Ashia Miller ROLLINGOUT May 25, 2018
"Bringing this heavy topic to the mainstream, Deborah Roberts, unashamedly tackled it in her #EvolutionOfMimi artwork which recently exhibited in the Spelman College and Museum of Fine Art. The exhibition featured a series of think-pieces that nudge the viewer to think deeply about their own preconceived notions, misguided thoughts, and implicit bias."
Art Review: "The Evolution of Mimi" at Spelman Museum
By Jordan Amirkhani BURNAWAY April 25, 2018
"Aware of the unrealistic standards and pressures facing black women in a society shaped by white standards of beauty, Roberts reconstitutes the misogynistic and racist stereotypes inflicted on black women into powerful images of female strength, vulnerability, and self-love."
BY Antwaun Sargent POSTED March 6, 2018
"EVEN BEYONCÉ ADORES DEBORAH ROBERTS'S COLLAGED PORTRAITS OF STRONG, BEAUTIFUL BLACK GIRLS AND WOMEN."
The power and pathos of girlhood defines Deborah Roberts' collages
BY Felicia Feaster POSTED March 6, 2018
Perhaps the ideal show for this #metoo moment, Deborah Roberts' exhibition at the Spelman College Museum of Fine Art, "The Evolution of Mimi," is at its heart a look at how black female identity is formed
BY Mark Van Proyen POSTED February 19, 2018
The hopes, frustrations and perilous potentials of African-American girlhood provide the subject matter for Deborah Roberts' new series of 14 collages....Each simultaneously embraces and steps away from most of the well-known examples of the African-American collage tradition as practiced by the likes of Romare Beardon and updated by Mickalene Thomas, among many others....Whereas the work of those prior artists makes a point of placing their figurative protagonists in complex, highly narrativized environments, Roberts purposefully separates her figures from any indication of context save that which might be inferred from their flamboyant dress, ungainly body language and ambivalent facial expressions. All of these aspects come together to force the viewer to take note of what is truly salient about them, that being their affecting call for the viewer to exercise a particular kind of empathy toward the cobbled-together identities of young persons who, through no fault of their own, are represented in a state of uncomfortable isolation, with all of its potential peril.
BY Amy Larocca
The New York Magazine, February 5, 2018 Issue
"The artist Deborah Roberts creates multimedia collages concerned with the challenges faced by black women and girls. 'I think all girls, but in particular black girls, start to question their own ideas of beauty when they're around 8 or 9," Roberts says. 'Black society is a matriarchal society. We assert our independence much earlier because we have to. These girls are powerful and vulnerable at the same time.'"
"For this project, Roberts, who frequently creates images of young girls, used more adults than she usually does–Rihanna's eyes, Michelle Obama's arms, and Issa Rae's hands, among others. She calls these subjects her "breakthrough women" and imagines them as the future of the girls she typically depicts. 'These women, they broke through!' she says, 'They told Misty Copeland she was too short, too old. She broke through! Rosa Parks sat down and didn't get up. She broke through!'"
"The Evolution of Mimi," which conflates the album titles "The Miseducation of Lauryn Hill" and Carey's "The Emancipation of Mimi," puts selections from the last decade of Roberts' work onto the walls of the Spelman College Museum of Fine Art.
"Lauryn Hill was so powerful and she knew who she was and her own identity," Roberts says. "And Mariah Carey was going through this thing where people [were questioning] whether she was black or not, whether she was black enough. I wanted to merge those two ideas into what was black feminism."
Here's the List of 19 Emerging Artists to Feature in New Studio Museum Show
BY Carolyn Twersky POSTED 08/23/17 2:34 PM
Deborah Roberts, The Bearer, 2017.
COURTESY THE ARTIST AND FORT GANSEVOORT
The Studio Museum in Harlem announced the list of 19 artists to show this fall in "Fictions," the fifth of the institution's so-called "F-series" exhibitions of emerging artists. (Past F-series shows, dating back to 2001, have included "Freestyle," "Frequency," "Fore," and "Flow.")
Opening September 14 and continuing into January 2018, "Fictions" was curated by the museum's associate curator for its permanent collection, Connie H. Choi, and assistant curator Hallie Ringle. Works in the show draw on a variety of media and, as a group, "investigate the complexities of the contemporary moment," according to a description of the show.
In a statement, Thelma Golden, the Studio Museum's director and chief curator, said, "I am thrilled that Hallie and Connie are continuing the legacy of our beloved 'F-shows' with a new presentation of a diverse group of artistic voices, bringing to Harlem insightful perspectives from locations around the country, including Georgia, Michigan, North Carolina, and Texas."
The emerging artists to be presented in "Fictions" are as follows:
Deborah Roberts: One and Many
November 29th, 2014 – BETSY HUETE
With the exception of one misstep, One and Many, Deborah Roberts' current solo show at Art Palace, is raw, painful, beautiful, grotesque, vulnerable, and vicious. The first line of her handout quotes James A. Baldwin: "People are trapped in history and history is trapped in them." Roberts carries on her shoulders the Post-Black ideologies that she grapples with. Through paint, collage, and sculpture, she is locating herself within three histories she has inherited—of being black, of being a woman, and of being an artist working within the largely white, chauvinistic modernist vocabulary of photocollage and abstract painting.
http://glasstire.com/2014/11/29/deborah-roberts-one-and-many/
Upcoming Events:
The Scottish National Gallery of Modern Art: "Cut and Paste | 400 Years of Collage", June 29 - Oct 27, 2019
Stephen Friedman Gallery: Solo Exhibition, June 7 - July 20, 2019
MASS MoCA: "Still I Rise", June 2019
Susanne Vielmetter Los Angeles Projects: "Native Sons: Many Thousands Gone", April 2019
The California African American Museum: "Plumb Line: Charles White and The Contemporary", March 8 - August 25, 2019
Stephen Friedman Gallery: "Talisman In The Age Of Difference", June 5 - July 21, 2018
Luis De Jesus Los Angeles: "Fragile But Fixable" Solo Exhibition. May 12 - June 16, 2018
Pennsylvania Academy of the Fine Arts: Artist Talk. March 28, 2018 12pm-1pm
Syracuse University: Artist Talk. March 1, 2018 6pm-8pm
Luis De Jesus Los Angeles: "SOUL RECORDINGS", Feb 17, 2018 - March 24, 2018
Jenkins Johnson Gallery: "Deborah Roberts, Uninterrupted", Feb 1, 2018- March 17, 2018
Spelman College Museum of Fine Art: "Deborah Roberts: The Evolution of Mimi", Jan 25, 2018 - May 19, 2018
Bakalar & Paine Galleries at the Massachusetts College of Art and Design: "Legacy of the Cool : A Tribute to Barkley L. Hendricks", Jan 17, 2018 - March 3, 2018
Miami ArtBasel in Miami, FL: December 5-10, 2017.
Fort Gansevoort Gallery in New York City, NY: "Ingenue", November 9, 2017- December 23, 2017.
Art Expo Fair Chicago, Chicago, Ill: Jenkins -Johnson Gallery, Sept 14-17, 2017.
Studio Museum of Harlem in Harlem, NY: "Fictions", September 1, 2017-January 7 2018.
National Museum of Mexican Art in Chicago, Ill: "The House on Mango Street Exhibition", April 2015- Summer of 2016.